the Golden City of a hundred Spires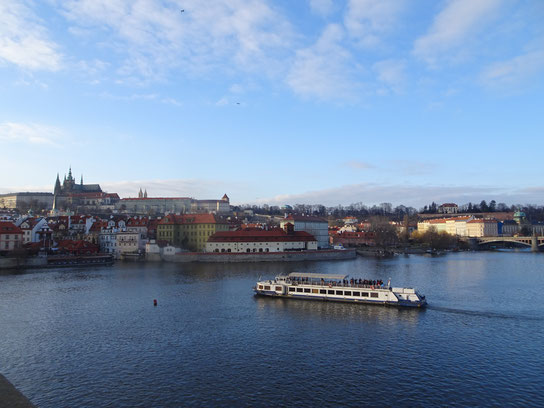 Yes, this is in fact the city of a hundred spires!
Prag lays not just on the beautiful Vltava River, the beautiful historical castle complex as well as the old town are just breath taking! With great TV cooks such as Zdenek Pohlreich the restaurant scene has kept up with other hip European Cities.

go during winter , it's romantic and not as crowded
absolutely go to the Prague Castle and see the fantastic St. Vitus Cathedral
also look at the cute little stores on the Golden Alley
the Basilika St. Georg or the huge library of the Strahov Monastery takes easily a day to explore
while walking on the beautiful Charles Bridge be aware that you won't be by yourself!
on Old Town Square you'll find many artists and the historic scenery is just beautiful
walk along the romantic Kampa Park and watch the boats cruising on the Vltava River
in the old town you'll find many Bohemian Cafés and yes, the Czech are famous for their cakes! 

Next door by Imperial
The newest restaurant by the celebrity TV star Chef Zdeněk Pohlreich.
This is a modern , Parisian bistro-inspired restaurant, serving traditional dishes such as steak in a light and creamy sauce. Though still relatively new to the city and despite a slightly higher price tag, this all-day eatery has quickly become a local go-to. The crispy duck which we tried, was a delight and was about as giant as a goose!

Kampa Park Restaurant
Kampa Park is Prague`s premiere fine dining establishment. A favorite of local and international celebrities, this upscale restaurant delivers sumptuous gourmet cuisine that includes world-class fish and meat delicacies paired with over 150 types of wines. Diners can choose between stylish dining rooms or the intimate riverside terrace (covered and heated during winter) overlooking Charles Bridge. This is probably the most romantic restaurant for love birds in Prague!

Hotel BoHo
BoHo Hotel redefines comfort, elegance and charm in the Golden City of a hundred Spires.
Located just a few steps from the Old Town Square, BoHo Hotel provides an ideal opportunity to enjoy and discover Prague. This luxury hotel belongs to the Small Luxury Hotel group and meets the highest expectations of those who seek exclusivity and excellence in a hotel in the centre of Prague. But since it has only 54 rooms their is still a lot of intimacy in this lovely boutique hotel.