no - this is not California!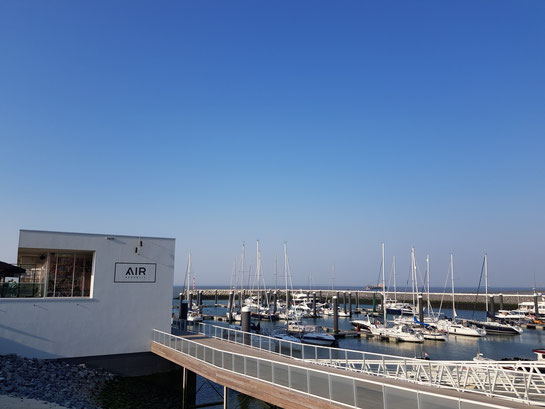 We finally made it to some fantastic food journeys
run by Netherlands best cook Sergio Herman! 
Here at the Zealand coast you might think at the beginning you're in California. But as soon as you feel the fresh sea breeze you'll realise you're at the North Sea. 
The holiday atmosphere and of course the culinary high quality cooking by Sergio Herman will create a smile on your face!

Cadzand Bad along the Zealand Coast  is for people, loving a fresh breeze of the Northern Sea instead of a pigs heat!
Sergio Herman's and Piet Boons new Strandhotel pushes obviously the development of the whole village
Try to stay at this new gem with several excellent restaurants, all run by Sergio Herman and his staff
visit nearby Oud Sluis or head over to Knokke (Belgium) for better shopping experiences
Brugge and  Gent are beautiful ancient villages also not too far away
you can take a bike and ride from Cadzand Bad to Knokke along the beautiful Zealand coastline

Air Republic - Strandhotel Cadzand Bad
This is a casual restaurant which belongs to the newly refurbished Strandhotel.
It lays in the new yacht harbour and offers gorgeous sunsets while drinking a  nice glass of chardonnay.  Sergio Herman, one of the most talented  cooks of the Netherlands,wanted to create a lifely atmosphere. The kitchen offers fresh and local seafood and everything tasted just marvellous!
In  all the dishes you'll find lots of love to the detail, they use herbs and flowers for decoration and the dressings are just mouthwatering!
It's just a great feast in a relaxing atmosphere along the Northern Sea.  

Pure C -  Strandhotel Cadzand Bad
This is another great project of Sergio Herman, where a high level quality on the plate goes hand in hand with a relaxed atmosphere. 
The restaurant is run by one of Sergio Herman's pillars, Syrco Bakker.
The young talented cook continues Sergio Hermans vision of great food, which needs lots of passion. Prepare yourself for an exciting and flavourful food journey!
No wonder Syrco Bakker has earned only a year after the opening a Michelin Star. Yes, he is on the roots of his Master Sergio Herman who is definitely in the Premier league by holding 20 Gault Millaut Points and 3 Michelin Stars!

Strandhotel Cadzand Bad
This newly refurbished hotel at the Zealandic coastline is a real gem!
The Strandhotel is the place for Food & North Sea lovers. 
Be ready for a fantastic culinary experiene by Sergio Herman's restaurants. In all three restaurants it feels like you vanish in Sergio's passion for Zealandic crustaceans and shell fish.
This is tasting and enjoying Zealand at its best!