under the Cypriot sun!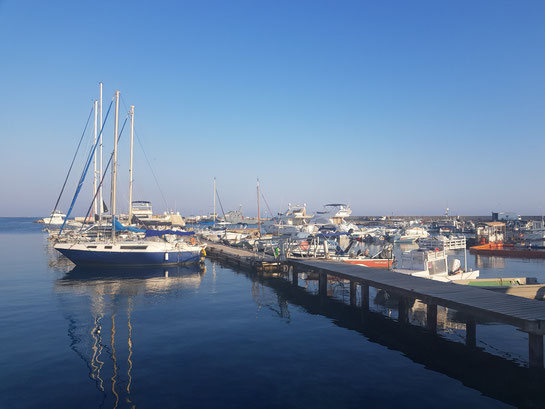 Cypurs might not be the nearest mediterrenean Island for European travellers. But the trip is still worth it! If you love meze platters, adore the kindness of the Greek People, you won't be disappointed. For those looking for some relaxed atmosphere, not full of construction going on, you must head to the westcoast ,towards Paphos

Kato Paphos Arechaeology Park -you could easily spend hours pottering around this fantastic attraction close to the harbour. There are structures here that go back to prehistory, but the most famous remnants are from the Roman era.
Absolutely try the main tapas called meze. Which means an appetiser or something to go with a glass of wine. In Cyprus it's a big meal and Mezes are often part of  a social event or celebration.

The medieval castle of Paphos - guarding the mouth of the harbour the castle had a very chequered history.

Originally a Byzantine fortress stood on this spot and this was reinforced by the Lusignans, whose territories extended across numerous Mediterranean locations in the 1200s.

For a change of scenery you drive up to the Troodos Mountains. It's the largest range on the island, with Cyprus' tallest peak, Mount Olympus. And yes, believe it or not, you can go for skiing during winter time.

Theo's Restaurant - Paphos
Theo's Restaurant is a Paphos harbour landmark eatery where catch-of-the-day fish is cooked to perfection! It enjoys a fortunate waterfront location, offering the perfect setting for you to observe the boats moored nearby. Their mezze-style fish specials are famous. Even many residents of Kato Paphos come to eat here. The restaurant displays the fish available for the day at the counter – another nod to the freshness of the ingredients used to woo your palate. The ambiance of the restaurant is typical Cypriot with white seats and tables with blue covers.


Leonardo Plaza Cypria Maris Hotel - Paphos
The 4-star Leonardo Plaza Cypria Maris Beach Hotel & Spa in Paphos is the perfect place
for adults
to relax...yes....not one single crying monster to expect...! Located directly
on the sandy beach
and close to the promenade, which ends at the harbour of Paphos, the hotel is an excellent starting point from which to explore the surrounding area. 
The hotel is all-inclusive. In the evening, the Mourayio Greek Taverna and Egao Asian Restaurant provide a further spectrum of culinary delights. Relax at the pool or visit the Spa, which offers a range of facials and body treatments. Plenty of sports activities and an entertainment programme guarantee that you'll never be bored. Surrounded by a large garden, the hotel is also very popular for seaside weddings and honeymoons where the sun is guaranteed.