This is the land of Trullis!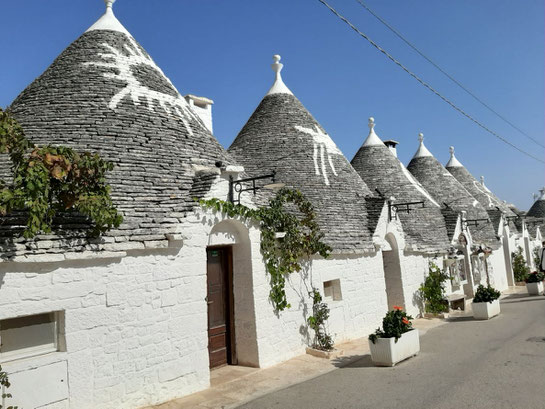 Some people might think, they landed in the middle of Hobbiton - but no, Apulia is in fact the land of the Trulli houses!
But not just the Trulli houses are worth the visit of Apulia.
Ostuni - the white village is famous for producing a high quality of olive oil and Matera is well-known for the cave dwellings inhabited since the Paleolithic period

stroll through the old village of Alberobello and try to figure out the different symbols on the ancient Trulli houses
Ostuni - the white village - is famous for producing high quality olive oil and wine. Durig summer this is the place to be for "influencers" from all over the world and the population rises from 32'000 during winter up to 100'000 in summer!
Visit lifely Polignano A Mare at the shore 
Walk through the ancient village of Matera, well-known for the cave dwellings inhabited since the Paleolithic period
Drive to the cosy fishing village Gallipoli, where in the first world war the Dardanelles campaign took place
walk through the centro storico of Monopoli and try to get out with the help  of google out of this labyrinth! 

Risto Caffe Cavour - Ostuni
This romantic family run Mediterranean Restaurant in the heart of Ostuni is a real jewel! It's based in a former oil mill back from 1100. Expect a very unusual setting and absolutely ask for the daily special fish, usually a delight! 

Masseria Salinola - Ostuni
Inside the relaxing quietness of Apulian countryside, among between verdant hills and olive trees,  rises in all its white splendour the 16th-century Masseria Salinola, an old fortified farm and a very special place to spend your holiday in Apulia, between Trulli valley and Salento.
Fifteen years of activity make the Masseria Salinola an ideal place to spend a restful time between the olive trees.
The intimate simplicity of this place, the warm welcome of the family, and the genuineness of the cuisine are the ideal union for an unforgettable experience in the charm of the old times that can be breathed in this ancient Apulian building.