a new star for Feinschmeckers in the Appenzell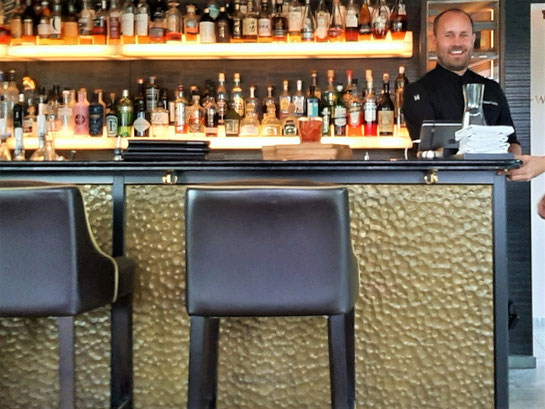 Tobias Funke is one of the top chefs in Switzerland and by Falstaff magazine  awarded as kitchen chef discovery 2021.
He combines tradition with innovation to produce, what he likes to call, Swiss Alpine food.
At his base, the Hotel Fernsicht Heiden, 10 fully equipped pop up chalets now offer the foodies  romantic nights including  a fantastic view over Lake Constance.

 Appenzell belongs to your Swiss bucket list!
You'll find in the town of Appenzell several bakeries offering excellent Artisan bread
or fantastic butchers with lots of local sausage specialties
and of course great cheese factories with the world famous Appenzeller Cheese or yummie goat cheeses
in the historic town of Appenzell you'll find beautiful restored old houses 
if you come in winter go on some of the several winter hiking trails such as Jakobsbad to Gontenbad
take the cable car up to  peak Kronberg from where you can enjoy fantastic views of the Alps

Swiss Alpine Restaurant by Tobias Funke - Heiden
Tobias Funke is one of the top chefs in Switzerland and by Falstaff magazine  awarded as kitchen chef discovery 2021. He combines tradition with innovation to produce, what he likes to call, Swiss Alpine food.  He likes to discover old traditional Swiss recipes and sets them on the Menu of the Swiss Alpine Restaurant frequently by working very closely with local farmers, cheese makers and meat producers. You'll find meat loaf à la Gasthaus Fernsicht, grilled fillet of perch from Lake Constance or an Appenzell Cheese salad. What characterises all the dishes is the full-bodied taste and that little something extra. We tried the 24 hours braised Short Ribs,which was just adorable! The staff was very professional but still very unpretentious, with a good sense of humour.
Right next corner to the Swiss Alpine Restaurant you find the Incantare Gourmet Restaurant, which is very sophisticated and where you can try some fabulous tasting menu's by Tobias Funke and his team. By the way, in 2011 he was named the youngest Gault Millau newcomer and awarded 17 Gault Millaut points and two Michelin stars.

Restaurant Anker - Appenzell Schlatt
As Swiss we must admit, we often get disappointed by quality and price of several restaurants in Switzerland. But this little jewel in the heart of the Appenzell has been such a revelation to us! As soon as you enter the beautiful location, the very charming host Myrtha Geiger awaits you with a big smile. If you walk down to the former stable, which has been transformed in such a wow...wow...wow location, you'll just be overwhelmed! The fantastic decoration, all created by Myrtha Geiger, changes about every 2 months.
When it comes to the menu, the fabulous journey continues. Chef cook Daniel Geiger, prefers local produces and everything is fresh, creative and mouth watering and believe it or not, to very fair prices. Spare some space for the delicious desserts as well...
We had such a wonderful and romantic time in a beautiful and unforgettable setting. Thanks a lot to Myrtha and Daniel, who showed us, that Switzerland still can keep up with other top kitchens around the world!

Pop Up Chalets by Tobias Funke - Hotel Fernsicht Heiden
This pop up hotel offers 10 fully equipped chalets with a fantastic view over Lake Constance. Alls of the romantic wooden chalets have their private toilet and shower, a cosy sitting area as well as fantastic beds to guarantee a deep and relaxing sleep. In the mornings you can take your breakfast in your own gondola right next to your chalet or in your cottage as well.

Boutique Hotel Krone - Speicher
There are good reasons to visit Appenzellerland. And even better to stay a bit at the small fine boutique hotel Krone in Speicher. The twelve rooms have been renovated with lots of love to the detail. This historic house is much more than just a roof over your head, it feels like home away from home!
The cosy restaurant offers a typical regionally influenced cuisine with a high quality to absolutely reasonable prices. They cook seasonal but full of surprises, no wonder they made 1st place at the Swiss competition «mini Beiz Dini Beiz»! For sure this wasn't our last visit to the beautiful, yet cosy «Crown» hotel!

Bed & Breakfast Neuhof - Schokohaus - Appenzell
This brand new Bed & Breakfast in the town of Appenzell might be some of the best you can get in terms of price & quality in this area! 
The host Lukas Koch is a former cook and if booked in advance, you can enjoy a faboulous dinner for at least 6 people. His brother owns a goat dairy, so you'll be able to taste delicious goat cheeses for breakfast as well. They also produce yammie whey truffles, which you can buy as a souvenir.
This little gem will enchant you with its traditional atmosphere, characterized by solid wood furnishings and lots of love to the detail. You'll find funny pictures of their family goats all over!  The owner Lukas was very charming and made us feel just like at home!

Gasthof Frohe Aussicht - Schwende
This small Inn 10 Minutes away from Appenzell has got a lot of Character .
The story of the house began in 1872 and the now fifth generation renovated the Inn step by step into a nice boutique hotel .
The host  and cook Arno Inauen belongs to the Swiss Gilde and we assure you, that when it comes to dinner, you'll taste it!
The newly renovated rooms with deep ceilings of the typical Appenzell houses spread a warm and intimate atmosphere, to guarantee a nice and deep sleep in this beautiful countryside of Switzerland