Most beautiful city on the Danube River!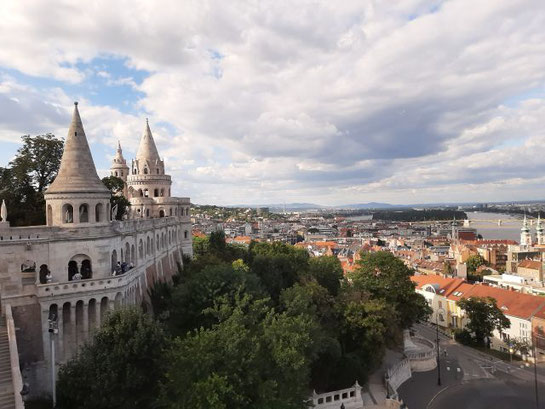 Hungary's capital city Budapest is actually made up of 3 unified cities, Buda and Obuda on the west bank of the Danube and Pest on the east bank. Much of the city has been granted UNESCO World Heritage Site status, and many visitors consider the city to be amongst the most beautiful cities in Europe!
The city successfully mixes its fascinating history with a brilliant, laid back contemporary artistic style. 

take the Buda Castle Hill Funicular up to the Castle garden . Here you find one of the greenest areas of the city and of course the fantastic
Fisherman's Bastion which looks like a little Disney World Castle
take the Hop on Hop off bus from the beautiful St. Stephens Basilica
have a cappuccino and a lovely cake at the most beautiful café in the world - The New York Café
do it like the locals and go to the medicinal bath "the Szécheny Baths complex"
Many locals still use the Market Hall as a place to buy their groceries
Rent a pedal cart on Margaret island and discover the 2.5km long island in the middle of Danube River
the impressive Parliament Building looks fantastic from every angle but it is worth viewing it from the other side of the Danube.

Borkonyha Winekitchen
 A bustling wine-orientated restaurant close to the Basilica; over 200 wines are available, and around a quarter of them by the glass. Skilfully executed, eye-catching dishes have subtle Hungarian influences; the kitchen keeps things simple by sourcing top-class ingredients and allowing them to shine, which hase given them 1 Michelin star.
---
Costes Downtown
In March 2010 Costes Restaurant received a Michelin star, becoming the first Hungarian restaurant to receive such an honor and only the second in the Central European region. Costes continues to win local and international awards.
Stylish and elegant, Costes Restaurant is all about forgetting the outside world for a couple of hours. Its  Portuguese-born chef Miguel Rocha Vieira adds touches of his home country to Hungarian-inspired dishes. The service is flawless and friendly, and dishes are prepared with the finest fresh ingredients.
Its sister restaurant, Costes Downtown,  also boasts a Michelin star.

Hotel Clark - Budapest
The adults only Hotel Clark Budapest is set right on Danube River and the Chain Bridge. It's close to popular attractions like St. Stephens Basilica, the Buda Castle as well as the Parliament Building. The boutique hotel features the fantstic Leo Rooftop bar with spectacular views over the Danube River as well as the Buda Castle. Here you can taste an international cuisine and zip on some delicious cocktails.