Thanks to Paul Bocuse, Lyon is the world's culinary capital!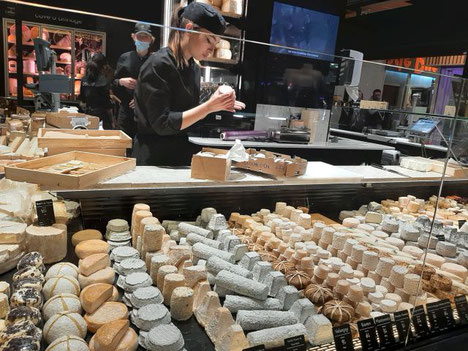 Lyon is one large World Heritage Site, with a big renaissance old town and on the Fourvière hill you can see the magnificent church Fourvière Basilica.
But especially for food lovers, this is the world's culinary capital! Especially if you visit les Halles de Lyon Paul Bocuse, it's a foodies dream! A hand-picked assembly of the region's best food merchants, selling charcuterie, cheese, meat, fruit and vegetables

 visit the old renaissance quarter le vieux Lyon.Stroll around the districts of Saint-Jean, Saint Georges or Saint Paules and buy some special french silk.
There are many "Traboules" , renaissance passageways, running beneath building in the direction of the Saône River
visible from all over the city, the magnicifent church Fourvière Basilica is to find way up on the Fourvières hills. If you're sporty, take the several stairs, if not catch the cable-car
right aside of the Basilica you'll find the ancient Theâtre of Fourvière. This 2000 years old theatre was rediscovered in the late 19th century and restored over the next 40 years.
between the Rhône and Saône River lays the Presque'île, a district with wide plazas shops and cultural institutions, restaurants, cafés and bars. 
if you're into fresh, regional specialities from France you definitely should not miss Les Halles de Lyon Paul Bocuse!
do not miss a visit at an authentique Bouchon Lyonnais!
at Croix Rousse their are museums still remembering of the famous silk trade industry.

Bouchon le Pôelon d'Or - Lyon
lThe term 'bouchon' originates from the bunches of twigs cabaret owners hung on their doors to advertise their establishment. But according to the association Les Bouchons Lyonnais, it's best to ask each one for its own version of the story. At le Pôelon d'or you find the typical red and white checked tablecloths, wooden furniture, closely arranged tables, hanging copper pots and old posters, not to mention the noises and smells of cooking that make your mouth water... at this bouchon, conviviality and simplicity take precedence on the plate as well as in the dining room. Add to that a charismatic waiter and authentic dishes – and the experience is complete!

Fourvière Hotel - Lyon
Offering a year round heated outdoor pool, this lovely hotel is located on Fourvière Hill above the old town of Lyon, offerieng fantastic views over Lyon. The rooms have air conditioning, soundproofing and hardwood floors. Restaurant Les Téléphones serves bistronomic cuisine overlooking the cloisters. You can relax with a hot drink at Le KFE or follow the hotel's own "traboule" passageway to a glass of wine at the Les Collections.