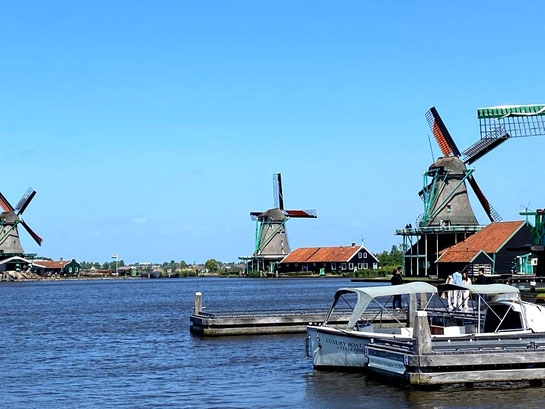 If you're looking for an easy road trip, still filled with lot's of gourmet hot spots and picturesque villages, the Netherlands won't disappoint you!
This journey took us to Maastricht, Rotterdam, Den Hague, Delft, and the seacoast village Zandvoort near Amsterdam.
Of course we had to go for a quick stop, over the boarder to Antwerpen , Belgium and taste the fabulous new restaurant by Sergio Herman - Le Pristine! 

Coming from South Europe start the journey in Maastricht: 
go to the weekly market, here you'll find of course the lovely dutch tulips, cheese and last but not least the famous clogs!
go on the hop on hop off "school bus" and combine it with a lovely boat tour on the river MaasHeading towards Rotterdam of course a stop in Antwerpen and Gent just after the belgium boarder is great, if you have enough time (see our blog post Belgium)
Rotterdam is really nothing great and if you have seen the Market hall in Rotterdam and some of the big cargo ships, this is mostly it!
Delft is a beautiful university city and well worth to stay 2 -3 nights. Beautiful boat tours take you around the river Schie. Also in nearby Leiden the best way to see this other university town is from a boat tour. Driving up further north it' s lovely to stay some days in Zandvoort, basicely the week-end beach for people from Amsterdam . From here it's easy to visit the famous cheese market of Alkmaar, a short trip up north, or the famous wind mills of Zaanse Schan near Amsterdam.

Fitz Roy Urban Hotel & Restaurant - Maastricht
The contemporary, innovating and pure kitchen of restaurant Fitz Roy, led by Raymond Hochstenbach, distinguishes itself by applying the French cooking principles on as well local as worldly ingredients and flavours. In the front of the authentic Fitz Roy Urban Hotel you experience the lively centre of Maastricht. In the Urban Garden, you discover an oasis of green and tranquility.
Kruydt Restaurant - Delft
It was a quiet evening during the week which meant the restaurant was not all busy. The service we received was first class. The food was beautifully presented and very tasty. The restaurant though housed in a fine old building looks modern and is tastefully decorated and furnished.  Prices are relatively good for fine dining and the atmosphere romantic.

Restaurant Le Vieux Jean - Delft
This tiny family run Michelin star restaurant serves tasty 3 - 4 course menus in a historic and romantic building. The wine list is really impressive, overall fantastic price/ quality!

The Local Bistro - Zandvoort
This hidden gem was a real great discovery in Zandvoort! Beautiful and romantic restaurant with a cosy winter garden. Service of the owner was so attentive and the food just fabulouse! No wonder we had 4 dinners in a row at this gourmet hot spot!

Hotel Arsenaal - Delft
A storehouse with a rich history...
Every step in this rediscovered icon takes you back in time!
Soak up the history as you enter the courtyard and dream of adventures under the historic beamed ceiling of the luxury rooms full of character!

Beachhouse Hotel - Zandvoort
Did you know that Beachhouse Hotel is the only hotel in Zandvoort located directly on the beach? From this boutique hotel you can walk straight to the beach and you will stay in luxurious, comfortable rooms. 
Imagine waking up to the sound of breaking waves on the shore. You open the doors to your  private balcony and look out over a breathtaking sea view. A new day begins!.