Are you up for some wildlife in the Serengeti or do you prefer beach life on Zanzibar island?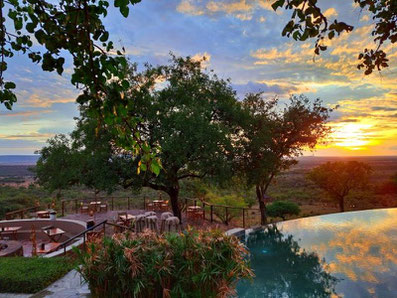 Enjoy one of the greatest experiences of your life, and watch tribes of zebras, gnus and elephants walking along the Serengeti!
After the big wildlife adventure indulge in some lazy beach life on Zanzibar Island

the

main attractions in the Serengeti

are:

nature walks

game drives

Hot Air Balloon Safaris

Bush meals

visiting  the Ngorongoro Crater

observing the Wildebeest Migration

and last but not least visit the Maasai

what to do on Zanzibar Island:

T

ake a spice tour in Zanzibar

check out Stone Tows

Visit Jozani Forest

Try Kitesurfing

Heat to the North of the island and stroll along Nungwi Beach

Eat at the famous Rock Restaurant

Visit Prison Island

Melia Hotel - Serengeti
Since for most of us the Serengeti is a once in a lifetime trip, choose a really cool hotel with a spectacular view over the Serengeti just like the Melia Hotel.  Feel also save, whilst some Maasai people watch over the hotel day and night so you won't be eaten up by a lion! The hotel offers several game drives, bush walks or balloon safaris. The rooms and architecure of the hotel are inspired by Maasai traditions with spectacular views of the hotel garden or Serengeti plains. The cuisine offers locals dishes with ingredients inspired by international cuisine.If you had enough game drive adventures, enjoy some time around the fantastic infinity pool where you often are lucky to spy tribes of zebras and gnus walking along, just incredible! Flying into Seronera Airstrip we recommend Auric Air, they take 20kg/Passenger, Coastal Airways only allows 15kg, which is a real hassel if you come from international into Kilimanjaro Airport!

Melia Hotel - Zanzibar
Just 45 km from the capital Stone Town, this sophisticated all-inclusive resort is located in an unbeatable spot. Romantic rooms and private villas, with infinity pools and views of the Indian Ocean - everything for a perfect and relaxed beach holiday. Indulge around the superbe infinity pool during the day or head over to Gabi Beach, also within the huge resort. But no worries, cable cars drive you there. The cuisine offers 5 restaurants. Our favourite at night was the Jetty Bar & Restaurant, on a pier in the middle of the ocean. Surrounded by the water, this is the perfect space to enjoy a romantic dinner! During the day the pool restaurant is a really nice spot for a light lunch but if you are out for delicious seafood, head over to the Gabi Beach Restaurant, you'll love it!