Barefoot at Timmendorfer Strand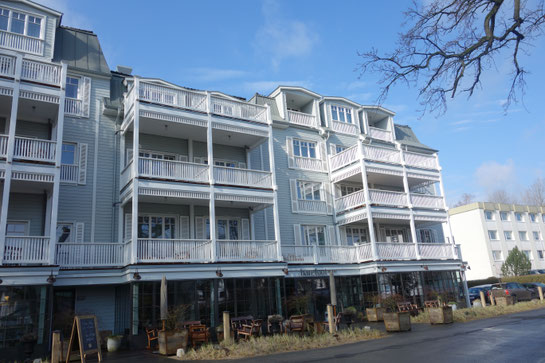 Yes, we admit it, we just love Til Schweiger's «Feel Good Movies»! Now the talented movie maker opened his first hotel called barefoot.The concept reminds very much of a charming hotel in New England along the U.S. East Coast. For European people it's now a bit closer to get that typical beachhouse feeling!
- barefoot hotel -
no this is not on Martha's Vineyard, this cosy New England style hotel is situated at Timmendorfer Strand and the perfect getaway for some easy days along the Baltic Sea!  

stroll along the beach and get a Cappuccino at the new boardwalk Café Wolkenlos
walk from Timmendorfer Strand to Scharbeutz along the new beach walk
visit the neighbour village Travemünde
for shopping go to the picturesque village Lübeck
sit in a famous Baltic Sea beach basket and breathe the fresh air
see the impressive harbour of Kiel

Restaurant Reethus - Timmendorfer Strand
This cute little restaurant is located in a building that dates back to 1865 (oldest building at Timmerndorfer beach) . Try the delicious sole or go for, a succulent rump Steak. The atmosphere is very intimate and the service really efficient and charming

Restaurant Horizonte -Timmendorfer Strand
This talented young cook, Sebastian Hamester, sets a new dimension of culinary art at the Baltic Sea! The nordic fish cuisine with flavours of asian elements is celebrated on a very high level. His passion for the asian kitchen shows in exceptionnal Sushi creations. But also the Irish Beef was one of the most tender meats we have ever tasted.

For all those Europeans, who love those cosy New England
hotels, you finally don't have to travel so far anymore! Til Schweiger, the movie maker of lots of «feel good movies» opened his first hotel at Timmendorfer Strand, along the Baltic Sea of Germany. As soon as you enter the hotel, you feel that light beachhouse flair. The rooms, most of them with balconies, are very much inspired by the Hamptons. Wooden floors, lots of natural materials, heavenly beds, give you the feeling of coming home, away from home. In the lobby & restaurant area you'll find many intimate corners, lots of candles every morning and evening and yes, this is a hotel that sets on the fire of the fireplace every day, indeed! On the walls their are pictures of Til Schweiger and his family, of course our favourite was the cute little Emma.  Unfortunately we did not have the time to try Til's famous Spaghetti Bolognese, one good reason for us to come back soon!