Surfing along the Atlantic Sea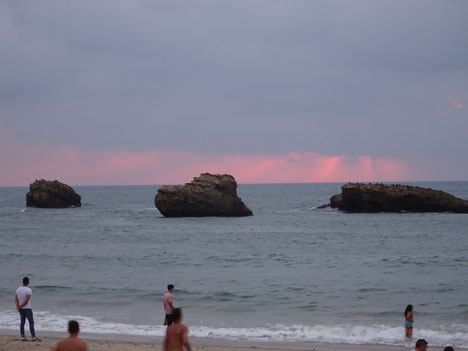 Shortly before getting to Biarritz the landscape changes radically. Long wide beaches, sometimes really high waves just perfect for surfers, a rocky coast , blooming hydrangeas, yes the Côte Basque has a lot to offer.
Yes, we were in Biarritz when France won the Soccer WM 2018! A lot of fun indeed!

 try to be here during 14 juillet and you get to see a fantastic firework
another highlight of course is, when France wins the WM soccer trophy, which happened during our stay on 15th July 2018!
we felt in love with this charming fishing Village
great for shopping
perfect beaches for Surfers, if you have time drive to Hossegor, one of the best surfer spots worldwide
blooming hydrangeas all over the village
 the cold but beautiful Atlantic Sea

Restaurant Chez Albert - Biarritz
Chez Albert is the place to be for seafood lovers!
You'll feel like on the deck of a ship leaving Biarritz as you gaze at the ocean then back at the coast for a last look at the Basque city and its splendid Sainte-Eugenie's Church.
The menu is made up of wild fish sourced from the St Jean de Luz fish market: Grilled sardines from St Jean de Luz with melted butter, Piquillo peppers stuffed with Biscay codfish, squid ink sauce and traditional seafood platters.

La Regina Biarritz Hotel & Spa - MGallery by Sofitel
Some hotels have a unique spirit, a secret beauty and an inimitable charm all their own. The Régina Biarritz Hotel & Spa***** is Looking wide out onto the Ocean.
With the arrival of the first rays of sunshine, the outdoor swimming pool at this Boutique hotel  beckons you to enjoy a session in its solarium. It really is difficult to imagine anywhere more relaxing.
IQORI has the aim of producing healthy, authentic cuisine allowing the quality of the ingredients to shine through.