for sure no "Ballermann" atmosphere!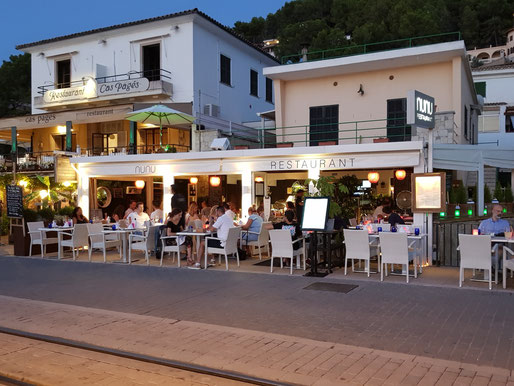 New hotels and very innovative cooks celebrate a relaxed lifestyle around the bay of Port de Soller.
Their are for sure no Jet Set or Ballermann people around, which makes it for "Fine Food Travellers" to a great destination, even just for a week-end...as long as you live within Europe of course! 
 see more on our youtube video

see the lighthouse tower or have some food their
try to get on the little train which takes you along the Port of Soller or even up to Palma
go to the Market in Soller and buy Spanish Oil from Soller or other delicacies
around the bay of Port de Soller you'll find many souvenir shops
if you have a car go up to Bens d'Avall Restaurant in Deia which hosts an excellent Gourmet Restaurant.  
( In Mallorca we always rent a car by Six Rentals, right within the airport building)

Nunu - Port de Soller
This was definitely our favourite restaurant in Port de Soller and the beautiful view over the bay comes for free!
Our very charming waiter "Kiko" gave us excellent advise on the dinner menu. Absolutely try several tapas to share, every dish freshly made and in an extraordinary quality. If it comes to dessert, the kitchen would deserve a Michelin star! The green apple filled with white chocolate mousse was not just absolutely delicious,  it was almost a pity to destroy this work of art.

Es Passeig - Port de Soller
During our first visit about 12 years ago, we loved the sea view and also the creative kitchen of Chef Marcel Battenberg.  Also this time, he surprised with freshly made local products such as a fantastic Angus Rind from the Island of Mallorca. This one is also served as a Special Signature Dish Hamburger. While Marcel Battenberg spoils his guests whith his mouth watering kitchen, his cheerful wife takes care of the guests. As a former sommelière she has got some great wines on the menu and you get excellent Spanish wines to very reasonnable prices.

Sa Barca - Port de Soller
This is another hot spot at the bay where you can watch the sunset while sipping on an excellent Spanish wine!
The owner, Jürgen Lichtenauer, comes from Germany and in terms of the very charming decoration style you can tell, that this guy got great inspiration at his former work place Altes Zollhaus on the island of Sylt.  The grilled shrimps we tasted during our first dinner stop, didn't quite match our expectations. But on our second dinner we really enjoyed the delicious sole!

Randemar - Port de Soller
The atmosphere in this restaurant is lively and you can enjoy Spanish seafood dishes or Tapas while listening to the chilled music by a local DJ. The owner got married to a lady from Miami and she obviously took care of the trendy interior.

Neni - Bikini Island & Mountain Hotel
At the end of the bay, you'll find in the freshly opened Bikini Island & Mountain Hotel the rooftop restaurant Neni.  Neni ist the concept of Haya Molcho, and in her kitchen you can expect some Meze and other oriental dishes, many inspired by her Israel roots. The interior is laid back in a light hippie style and the view fabulous. Since they just opened 2 months ago, not everything worked smooth yet, so our  menu was served quite cold. Nevertheless the waiter was very helpful. We just missed real wine glasses….they serve the wine in small "milk glasses" which is a downgrading for every wine lover! 

Bikini Island & Mountain Resort - Port de Soller
The Bikini Island & Mountain Hotel opened in July 2018. This top of the hill hotel celebrates a breathtaking sight of the Port de Sóller Bay and the Tramuntana Mountains.  The outdoor pool war very relaxing, due to the location their were mainly adults . No stupid security handling made it for me, as an addicted swimmer, to the perfect spot! No pool opening hours etc. so someone can go for an early morning swim, really uncomplicated, also the handling of the towels. The rooms are tiny but with its spacious balcony it still feels big enough. The hippie style of the hotel is cool and relaxed, just be aware that approximately 125 steps take you down to the beach!